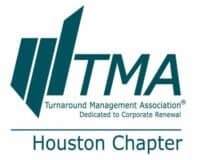 Join Turnaround Management Association for its June 2022 breakfast meeting, "Lessons Learned: Insights from Debtors' General Counsel." The breakfast will feature a panel of speakers:
Cindy Muller, Co-Chair of Jones Walker Offshore Wind Initiative, Former GC of GulfMark
Bruce Lundstrom, Former Executive Vice President, General Counsel, and Secretary at Tidewater Inc.
David A. Rassin, Vice President, General Counsel, Secretary, and Chief Compliance Officer at SAExploration
(Moderator) Joe Bain, Partner at Jones Walker LLP, Co-Chair of the Bankruptcy & Restructuring Practice
One (1) hour of CPE is offered for this program. There are NO pre-requisites, preparation or experience required. One (1) hour of CLE has been applied for.
Cost: Members $39 | Non-Members $54
Register Now
Who to Contact: Dale Wilkins | (713) 839-0808 | dale@amc-texas.com