Our slogan says it all: PKF – People the Key to our Future®. At PKF Texas, your voice will be heard and your career ambitions valued. We believe that in order to delight our clients, we must nurture a culture that concentrates as much on our people as on the numbers. We believe appreciation will be infectious. We believe wins should be celebrated. We believe our team members are our second family.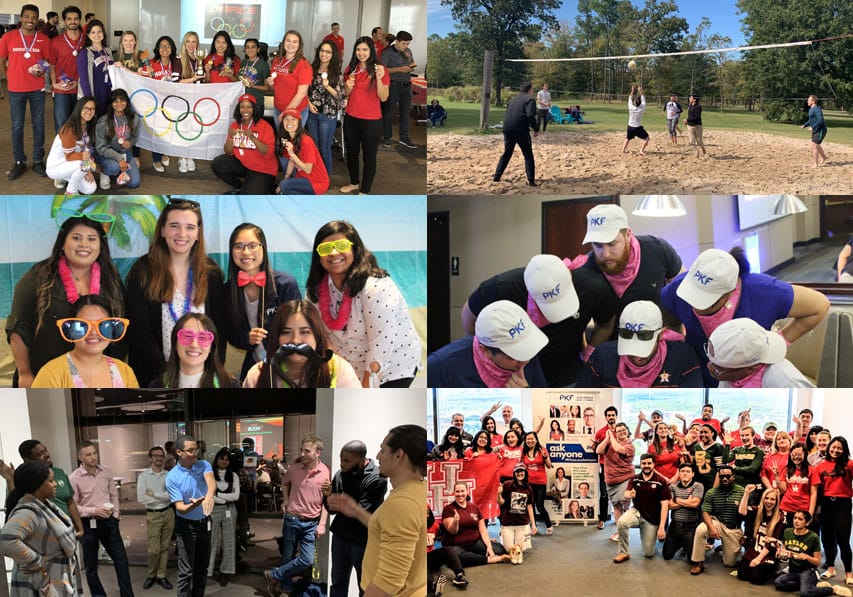 Our culture takes a people-first, profits-follow approach, and we are committed to continuing to build a firm where people can have a career AND a life. We believe in the principles of life-work balance, flextime, flex pace and investments in technology that allow our team members to work from anywhere.
OUR FIRM BELIEVES IN THE MANTRA:
Accounting is more than just a business – it's a people business. People like and want to do business with people they can build a relationship with over time, so we believe in investing in our team members' professional and personal development at all levels with a "people first" approach. By setting the tone for a good culture, our team members are able to thrive in their careers.
OUR COMMITMENT TO DIVERSITY, EQUITY AND INCLUSION
Pannell Kerr Forster of Texas, P.C. (PKF Texas) welcomes and honors all people from diverse backgrounds, and we strive to cultivate a culture rooted in Diversity, Equity and Inclusion (DEI). We value others' perspectives and cultures. Our team members bring something different to the table and broaden our horizons with new ideas. Each person is unique and provides potential for valuable insight and diversity in thought, which contribute to the firm's success.
There is work to be done in many professions, including in the accounting industry, and we are committed to focusing on the below areas, building upon our firm's foundation of DEI.
Embracing diversity by accepting and respecting all
Condemning any and all forms of discrimination
Providing a safe space for dialogue and conversation around DEI
Using our firm and volunteer team members to reach out to underserved communities and working with schools and universities to provide education about the opportunities the accounting profession can offer
Continue recruiting top talent of any race, ethnicity, age, gender, socio-economic backgrounds or any other dimension of diversity to provide a platform of career growth based on performance merits
Houston is known as Space City, a city with no limits. You can ask some of our team members who have moved here to work at our firm and with our people. What brought them to our great city?
"What I loved about Houston when I moved here was the diversity. Most people living here don't seem to be from Houston, which gives you the opportunity to meet people from all over the world. It's a big city with lots of cultural opportunities, but people still live as if it was a smaller city. Aside from July and August, I like the weather and think Houston offers lots of outdoor activities, so I enjoy all the parks!"
– Cecilia Villagarcia, Audit Manager
"Houston is a dynamic and thriving city with the momentum to be one of the world's leading global cities for decades to come. I've always been impressed by the fact that problems aren't someone else's to solve in Houston. Rather, there is a collective desire and will among both companies and individuals to tackle the big issues. Put simply, Houston is solving the problems that matter, and we welcome anyone ready to join us in that mission."
– Bob Harvey, President and CEO, Greater Houston Partnership
There are two philosophies to education: book smarts and on-the-job training. A firm that expects to attract the brightest talent must be able to provide the opportunity to further their professional and personal skills. Intrinsic to our culture is PKF University. From your first day at PKF Texas, this accredited continuing professional education forum offers sessions to enhance your interpersonal, management, leadership and technical skills.
Want to learn more about how you can grow at PKF Texas?
PROFESSIONAL DEVELOPMENT & MEMBERSHIPS
Your career development is a priority at PKF Texas, and our team members will help you grow personally and professionally. Beyond the office, our involvement in professional organizations not only provides a variety of avenues for you to explore, but also the resources and technical skills to supplement your experience.
PKF International is a global network of accountancy firms. The network's 220 member firms operate under the PKF brand in 150 countries across 5 regions and encompasses over 20,000 professionals.
Founded in 1999, LEA Global is one of the largest international associations in the world, creating an engaged community of almost 200 firms focused on accounting, financial, tax and business advisory services with specialized knowledge across many industry sectors.
The American Institute of CPAs (AICPA) is the world's largest member association representing the accounting profession. Their history of serving the public interest stretches back to 1887.
The Texas Society of CPAs (TXCPA) is a professional society representing Texas CPAs and finance professionals in public practice, business and industry, government and education fields, and future CPAs.
TXCPA Houston, a chapter of the Texas Society of Certified Public Accountants, was organized in 1928 and, for nearly a century, has been a trusted professional community for CPAs in the greater Houston area.
The Center for Audit Quality (CAQ) is devoted to enhancing investor confidence and public trust in the global capital markets. The Center for Audit Quality is the recognized leader – inside and outside of the profession – on all things public company auditing: resource provider, thought leader, and convener.
To help CPAs meet the challenges of performing quality audits in this unique and complex area, the AICPA has established the Employee Benefit Plan Audit Quality Center, a firm-based voluntary membership center for firms that audit employee benefit plans.
The AICPA's Private Companies Practice Section (PCPS) supports CPA firms in the everyday intricacies of running a practice. PCPS partners with firms of all sizes, creating targeted and customizable practice management resources, networking opportunities and is a strong, collective voice within the CPA profession.
The PCAOB is a non-profit corporation established by Congress to oversee the audits of public companies in order to protect investors and further the public interest in the preparation of informative, accurate, and independent audit reports. The PCAOB also oversees the audits of brokers and dealers, including compliance reports filed pursuant to federal securities laws.
The Association for Accounting Marketing (AAM) is a national trade association dedicated to promoting excellence and elevating the professional stature of marketing, business development and other practice growth professionals.
CPA Firm Management Association is the one representative voice of the profession. The Association leads CPA firm management by empowering all CPA firms to thrive while expanding knowledge, sharing experiences, achieving through collaboration, influencing leadership and envisioning possibilities.
At PKF Texas, we appreciate being a part of the community. In fact, we encourage it by giving our team members eight hours of paid time off to volunteer per year.
Whether we are volunteering our time, raising money through the PKF Texas Foundation or serving on committees with great organizations, such as the Greater Houston Partnership, YWCA Houston, TXCPA Houston and more, the people of PKF Texas are proud to give back.
Here are some of the organizations we support!
Each year we are proud to earn industry and local awards that commemorate our culture, client service, and dedication to corporate social responsibility. This recognition represents the hard work our team members put forth year after year, to co-create solutions with our clients and deliver lasting results.