The 2019 Texas CPA Society (TXCPA) Houston Energy Conference will feature insights from top executives and professionals in the energy sector. This will be Brian Baumler's – PKF Texas Audit Director – sixth year as Chairman of the conference. Top accounting firms will be represented at this event, along with many other accounting professionals within the industry.
Speakers and panelists will discuss a wide range of topics, such as mergers and acquisitions, technology, E&P and more. Keynote luncheon speaker, Mark McCollum, CEO of Weatherford, will discuss oilfield services outlook and trends. Wrapping up the Energy Conference, Scott McClelland, the President of H-E-B and Chairman of Greater Houston Partnership will speak on economic development initiatives for Houston.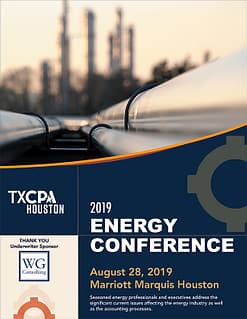 About the conference:
When: Wednesday, August 28, 2019 | 7:30 a.m. – 5:30 p.m.
Where: Marriott Marquis Houston | 1777 Walker Street, Houston, TX 77010
Attendees will receive up to 10 CPE credits.
What's on the agenda for the conference? Click here or on the cover to the right to see the conference's brochure with all the topics and speakers.
To register, visit www.houstoncpa.org.
For more information, contact TXCPA Houston at cpe@houstoncpa.org.