On Friday, June 28, 2019, the Houston Business Journal is hosting a philanthropy and not-for-profit panel as part of its Power Breakfast series.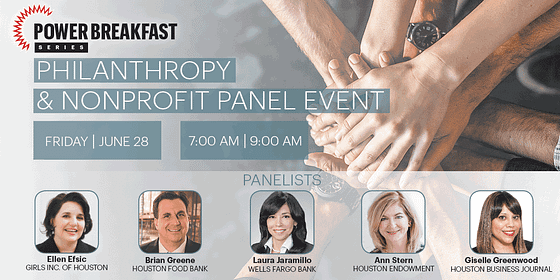 Houston is known as a giving town, with many not-for-profit organizations in the city. The panel discussion will dive into successful fundraising and marketing strategies, as well as ways not-for-profit organizations can enlist the right people to work for them.
PKF Texas is a proud sponsor of the panel, which consists of not-for-profit executives who run both local and national operations:
Brian Greene, CEO, Houston Food Bank
Ellen Efsic, Executive Director, Girls Inc. of Houston
Laura Jaramillo, Senior Vice President & Community Relations Manager, Wells Fargo Bank
Ann Stern, President and CEO, Houston Endowment
For more information and to register for the event, visit the Houston Business Journal website.
The PKF Texas Not-for-Profit team will be attending, so connect with us there or learn more at our website: www.pkftexas.com/NotForProfit.