There was a full house at the PKF Texas office for our second not-for-profit seminar of the year, "2019 Accounting Updates and Changes for Not-for-Profits." For this breakfast event, Audit Senior Manager and the face of PKF Texas' not-for-profit team, Nicole Riley, CPA, CFE, discussed timely updates and changes organizations need to know.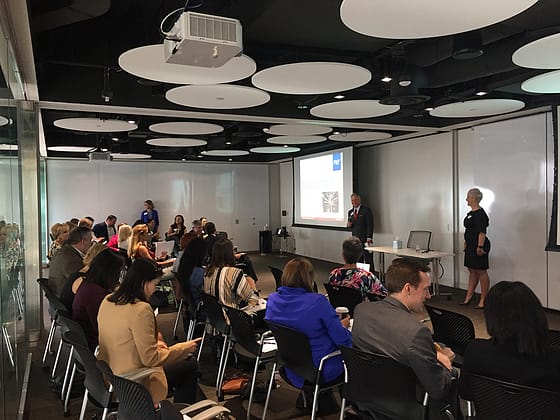 The Accounting Standard Updates (ASU) outlined were:
ASU 2016-18 – Statement of Cash Flows (Topic 230) – Restricted Cash
ASU 2019-06 – Extending the Private Company Accounting Alternatives on Goodwill and Certain Identifiable Intangible Assets to Not-for-Profit Entities
ASU 2018-15 – Customer's Accounting for Implementation Costs Incurred in a Cloud Computing Arrangement that is a Service Contract
ASU 2016-14 – Not-for-Profit Entities (Topic 958) – Presentation of Financial Statements of Not-for-Profit Entities
ASU 2018-08 – Not-for-Profit Entities (Topic 958) – Clarifying the Scope and Accounting Guidance for Contributions Received and Contributions Made
ASU 2014-09 – Revenue from Contracts with Customers (Topic 606)
ASU 2016-02 – Leases (Topic 842)
For each of the standards discussed, Nicole provided insight on practical implementation and what organizations need to be doing to be in compliance. In addition, Nicole presented plausible scenarios and examples, which applied the standards and showcased how they impact not-for-profit organizations.
She further engaged the audience by taking live polls, testing their knowledge of endowment funds, investments, conditional vs. unconditional and more – this spurred a lively discussion between several attendees and other PKF Texas team members about the rules for different types of organization structures.
Nicole covered a lot of material in a short hour of presentation, with hopes of creating much-needed awareness for not-for-profits to consider when filing their financial statements.
For more information and a deeper dive on the not-for-profit space, Nicole and the rest of the not-for-profit team are ready to co-create and co-develop solutions with your organization: www.pkftexas.com/NotForProfit.