What is good not-for-profit governance? How can organizations spot red flags of bad governance and avoid fraud? PKF Texas Directors, Nicole Riley, CPA, CFE, and Emily Smikal, CPA, shared their insight in our Zoom webinar on May 12, 2021, "Governance Gone Bad: Lessons Learned to Help Your Not-for-Profit."
Throughout the presentation, both speakers shared several "bad apple" examples from the news and discussed:
What happened
Where the oversights and mistakes happened
The takeaways organizations should know
How to better mitigate future mistakes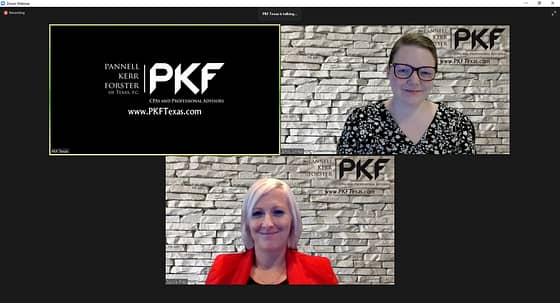 Even though "governance" can be a broad topic to discuss, Nicole and Emily identified key areas to watch out for, which can help organizations catch triggers before it's too late. Nicole led off with emphasis of Board members' fiduciary responsibility, as well as the accountability and oversight between executive directors and CEOs with the not-for-profit Board, Board of Directors and/or Finance Committee. Emily then proceeded to focus on the Form 990, what it is and its importance, and common mistakes and errors.
The webinar closed with Nicole and Emily sharing helpful resources for attendees:
To watch* the full webinar, visit www.pkftexas.com/051221NFPWebinar.
For more information about how the faces of PKF Texas serve not-for-profit organizations, reach out to our approachable advisors at www.pkftexas.com/NotForProfit.
*Note: viewing the recorded webinar does not make you eligible for CPE credit.