HOUSTON – October 4, 2022 – Pannell Kerr Forster of Texas, P.C. (PKF Texas) has been named as one of 2022's 50 "Best of the Best" Firms in the U.S. by INSIDE Public Accounting (IPA). In addition, PKF Texas is also a Top 200 accounting firm by IPA.
"What an honor to, again, be recognized as one of the best of the best accounting firms by IPA" said Byron Hebert, CPA, CTP, Chief Growth Officer of PKF Texas. "It takes a little art and a little science to truly appreciate our clients' business, but at the end of the day, it takes both great clients and great PKF Texan team members to be the 'Best of the Best.'"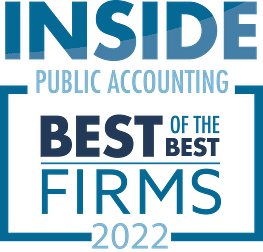 How "Best of the Best" is Recognized
Every year, IPA ranks the largest public accounting firms in the U.S. based on participating firms' net revenues. The Best of the Best this year were chosen from nearly 600 firms who were eligible in the 32nd annual survey and analysis of firms. Ranked on more than 50 metrics, the top performers within the profession produce outstanding results while planning for long-term sustainability and growth, offering both clients and staff alike a successful future.
PKF Texas has been recognized as a Top 200 firm since the list's inception in 2010 and a Best of the Best firm in 2014, 2020 and 2021. For complete lists of the Top Firms and the Best of the Best, visit www.insidepublicaccounting.com.