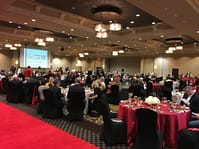 Today on The CPA Desk, we reflect on the 2016 Cougar 100 Luncheon that was held on October 26. This annual event honors the 100 fastest growing Cougar owned and led businesses. We were so proud to serve as the official accountants for this event and loved seeing how far the University of Houston alumni have come in growing their businesses.
The number one spot went to Jennifer Keese, the owner of Concept Connections, due to a whopping 302.35% growth! Concept Connections helps individuals with autism by taking a holistic approach to applied behavior analysis therapy. They also offer one-on-one therapy in their Fort Worth and Dallas located offices and in family homes across the state. With a staff passionate about advocating for those affected by autism and a push to always be on the cutting edge of therapeutic services, we look forward to seeing where this company goes from here.
Eight of the top ten spots on the list went to Houston companies like Nobilis Health; Hydra Offshore Construction, Inc.; Element Architects, LLC; Flite Banking Centers, LLC and Yellow Rose Distilling, LLC.
Congratulations to each end every company on this list and a special shout-out to the Houston companies that were honored. Thank you for helping to make Houston a great place to live and work!